Confirmed: Skype, WhatsApp and VoIP Services Blocked in UAE
During the holidays, a lot of people have complained that they have been unable to contact their families/friends via voice call or video call. Du and Etisalat telecoms (the 2 internet and telecom providers in the UAE) have confirmed that unauthorized VoIP services are blocked in the country.
These statements were validated through a Twitter response from both networks. Even Skype messaging app, has also responded in a Tweet that it is indeed blocked and we have to contact the ISP for this.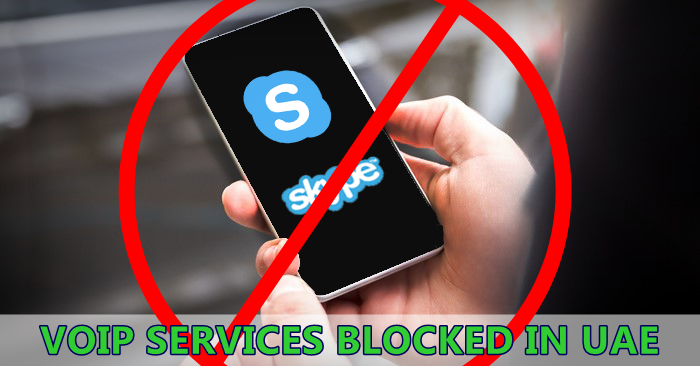 Du and Etisalat Confirms that VoIP Services Such as Skype are Banned in the United Arab Emirates
According to Du and Etisalat, they are following the terms as per UAE Telecom Regulatory Authority rules wherein unlicensed VoIP services are prohibited in the country. The popular Voice Over Internet Protocol services are Skype, WhatsApp, FaceTime and Viber.
Below is a statement from Etisalat  UAE
The access to the Skype App is blocked since it is providing unlicensed Voice over Internet Protocol (VoIP) Service, which falls under the classification of prohibited contents as per the United Arab Emirates' Regulatory Framework. Thanks

— Etisalat UAE (@etisalat) December 30, 2017
Below is a statement from Du Telecom
Hello, please note that voice/video calls (VoIP) are blocked in compliance with the UAE's Telecommunication Regulations that allow VoIP services to be provided in the country only by licensed telecom operators, (1)

— du (@dutweets) December 28, 2017
Lastly, Skype themselves have responded and you can check out their response asking users to visit their FAQs page where the said limitations are stated.
Unfortunately, it's true. Check out this help page for more information. https://t.co/zbi13C1w55

— Skype (@Skype) December 28, 2017
Using BOTIM and C'Me as Alternative Voice Mobile Apps
Residents are left wondering as to how they're going to contact their families back home. Some would even mention to use a VPN (Virtual Private Network) which acts like a device to adapt another country's IP address so that your ISP will not recognize your IP as coming from the UAE. However, the government has issues a warning in the past that using a VPN (for illegal use) is punishable and would incur a minimum fine of 500,000 AED.
The telecom providers have mentioned 2 apps (BOTIM and C'Me) for its users to use. But these apps would require a minimal fee of 50 AED per month once you subscribe to your ISP for it.
While the voice calling features as well as the video calling features are disabled, you can still send messages online through instant messaging (chat).