Indian Wins 10 Million AED in Recent Big Ticket Abu Dhabi Raffle
Britty Markose became an instant millionaire after purchasing 3-4 times in the Big Ticket raffle.
Congratulations to Britty Markose, an Indian expat who lives in Dubai since last 9 years and has won 10 Million AED in the recent raffle draw of Big Ticket's "The Big 10 Draw Series 197"
The raffle was held at the Abu Dhabi International Airport arrivals hall on Saturday morning – November 3, 2018 at 10am.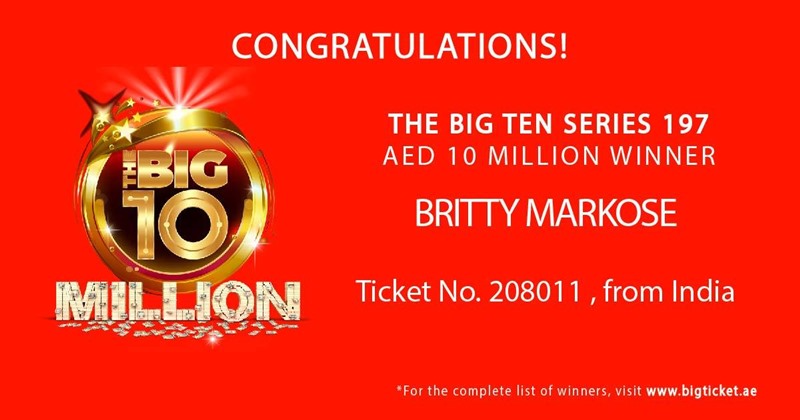 Britty Markose, Indian National, Wins Grand Prize in Big Ticket Raffle
Based on a post from the Facebook account of Big Ticket Abu Dhabi, Mr. Markose shared that he has been purchasing tickets 3 to 4 times only.
"It's been last 3-4 times I had been purchasing Big Ticket alone and it's unbelievable and surprising as well but I feel reallyl lucky today. It's just an awesome and fantastic feeling which I am not able to express but thanks to God and Big Ticket team for helping me to be a millionaire. says Markose.
He also adds "Big Ticket Buyers, keep trying. I wish you all the very best!!"
Britty Markose won with Ticket Number: 208011
On the other hand, there are also other winners from this raffle:
Ravi Mada won a Land Rover with Ticket Number: 003200 , India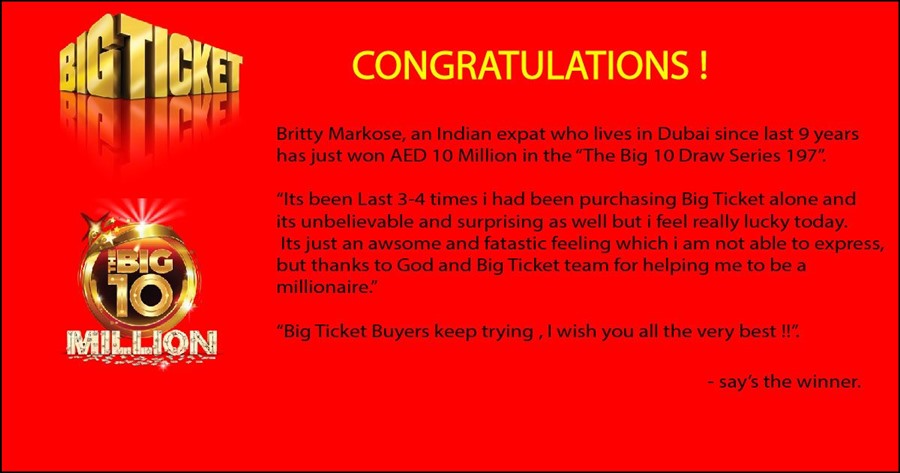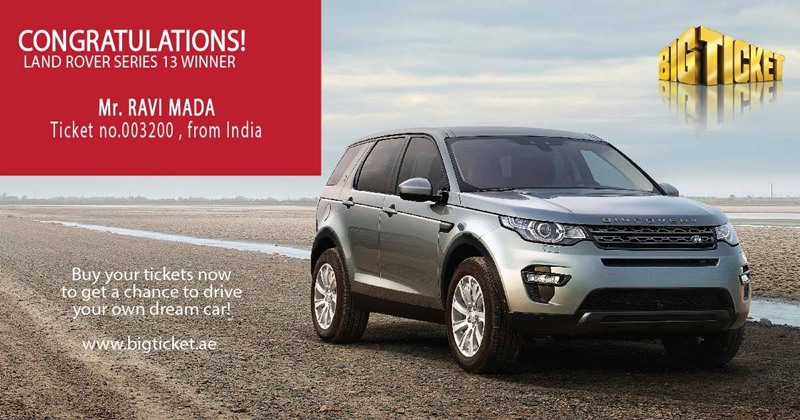 There are 10 winners and 9 of them are Indians and there's 1 Pakistani. Please check the list of winners below with their corresponding prizes, ticket numbers and nationality:
PRIZE CURRENCY PRIZE AMOUNT NAME Ticket No. Nationality
1st – AED 10,000,000 – britty markose – Ticket Number 208011 – India
2nd – AED 100,000 – THULASEEDHARAN PILLAI BHASKARAN PILLAI – Ticket Number 037428 – India
3rd – AED 90,000 – David Yesudhas – Ticket Number156046 – India
4th – AED 80,000 – Arun Vrundavanam Balakrishnan Nair – Ticket Number 159507 – India
5th – AED 70,000 – Waris Ali Sardar Ali – Ticket Number 051869 – Pakistan
6th – AED 50,000 – Byju mecholil – Ticket Number 089928 – India
7th – AED 30,000 – Sanjay Kisan Fadtary – Ticket Number 172056 – India
8th – AED 20,000 – VALIATHU THOMAS SATHEESH – Ticket Number 142185 – India
9th – AED 10,000 – Arun Vijayan – Ticket Number 099295 – India
10th – AED 10,000 – Joseph Jacob – Ticket Number 129367 – India
Want to participate in this monthly raffle? Visit www.bigticket.ae