Indian Wins Grand Prize of AED 15 Million in Big Ticket Raffle
The Indian expat won 15 Million Dirhams in the Big Ticket Raffle
Congratulations to the winner of the Big Ticket Abu Dhabi Raffle who is an Indian national named Sarath Purushothaman. He won the Fantastic 15 Million Series 199 and got the top prize of 15 Million Dirhams. He won with the ticket number 083733. This winning is definitely a nice news as he welcomes the new year!
This Raffle Draw is regularly held at the Abu Dhabi Airport and plenty of customers have already become instant millionaires because of this raffle.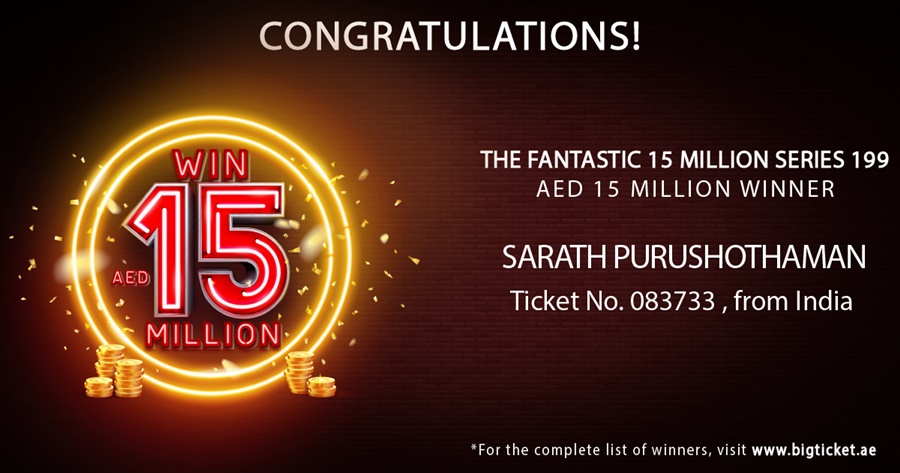 Congratulations as well to Shahid Fareed, a Pakistani national who won the BWM 220I SERIES 04. He won a brand new car for this raffle.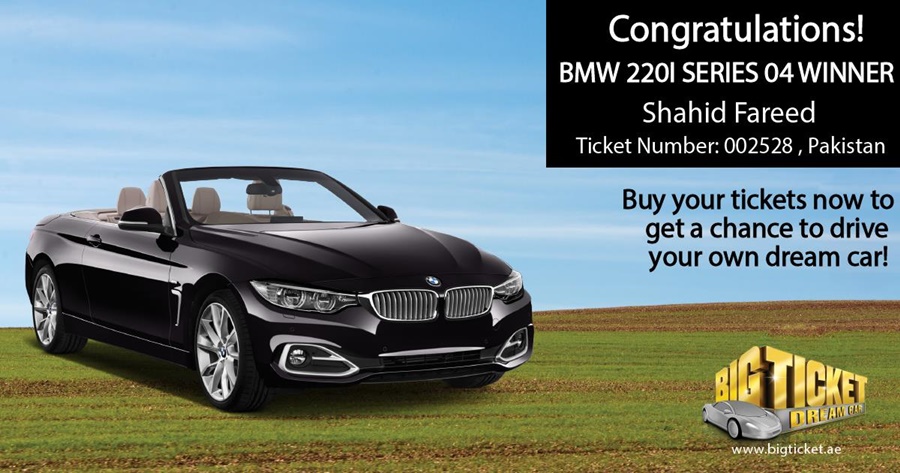 The image below contains the list of winners who purchased tickets last month.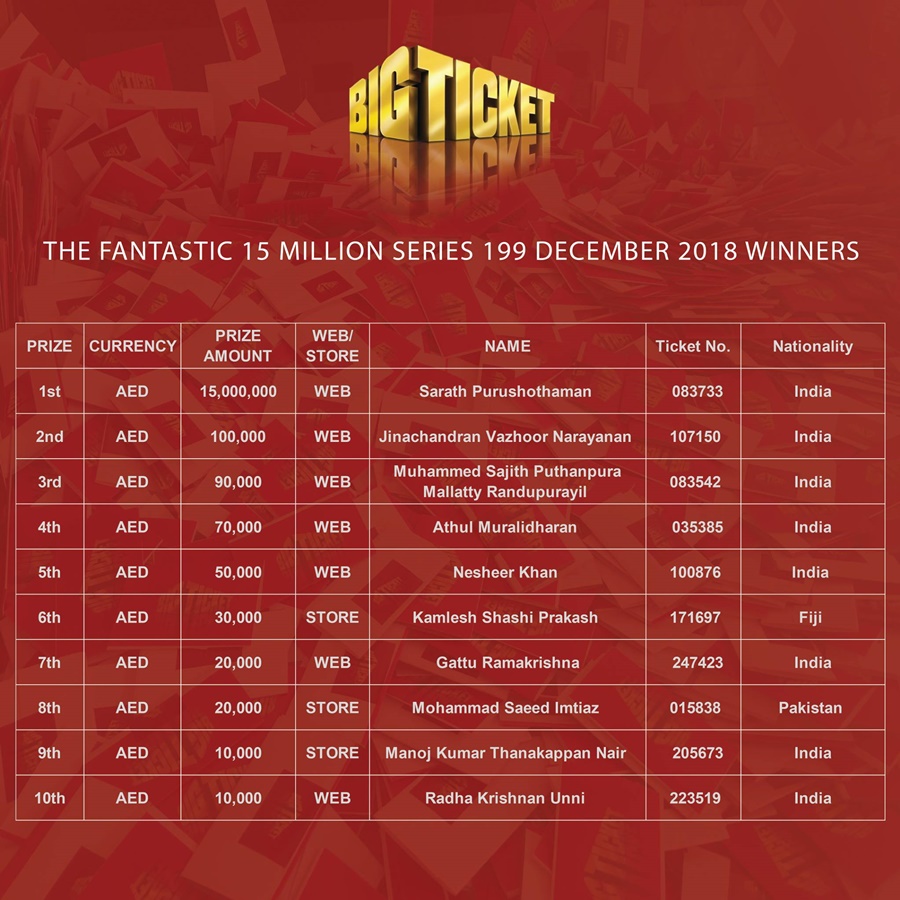 8 Indians, 1 Pakistani and 1 Fiji national won the prizes in the raffle draw. Here's the complete list of winners during this raffle event:
15 MILLION DIRHAMS SERIES 199 Winner's List
| PRIZE | CURRENCY | PRIZE AMOUNT | WEB/ STORE | NAME | Ticket No. | Nationality |
| --- | --- | --- | --- | --- | --- | --- |
| 1st | AED | 15,000,000 | WEB | Sarath purushothaman | 083733 | India |
| 2nd | AED | 100,000 | WEB | Jinachandran VAZHOOR NARAYANAN | 107150 | India |
| 3rd | AED | 90,000 | WEB | Muhammed Sajith Puthanpura Mallatty Randupurayil | 083542 | India |
| 4th | AED | 70,000 | WEB | Athul Muralidharan | 035385 | India |
| 5th | AED | 50,000 | WEB | NESHEER KHAN | 100876 | India |
| 6th | AED | 30,000 | STORE | Kamlesh Shashi Prakash | 171697 | Fiji |
| 7th | AED | 20,000 | WEB | Gattu ramakrishna | 247423 | India |
| 8th | AED | 20,000 | STORE | MOHAMMAD SAEED IMTIAZ | 015838 | Pakistan |
| 9th | AED | 10,000 | STORE | Manoj Kumar Thanakappan Nair | 205673 | India |
| 10th | AED | 10,000 | WEB | Radha Krishnan Unni | 223519 | India |
In case you want to replay a video of the raffle event, below you can check out how they picked the winners:
Big Ticket Raffle is a regular monthly raffle and if you want to participate, you may purchase raffle tickets online through bigticket.ae