Mumbai to Pune in only 25 minutes using the world's first Hyperloop by 2024
Sir Richard Branson announces plans for Maharashtra's first hyperloop.
Hyperloop One is a type of transportation that travels in high speed. The Hyperloop One is currently being created by Virgin Group in India. The world's first Hyperloop will connect Pune to Mumbai in a travel time of 25 minutes.
Last year, the Maharashtra government revealed and announced its plans to the hyperloop project. Richard Branson the Chairman of Virgin Hyperloop also announced to the public that he had signed a Memorandum of Understanding (MoU) with the government of Maharashtra to construct the Mumbai-Pune hyperloop. This transportation has a speed of 1,080 km/hr.
Mumbai-Pune Hyperloop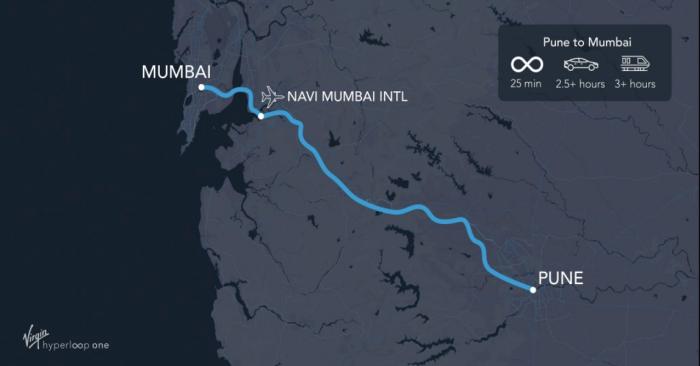 Richard Branson, Chairman of the Virgin Hyperloop stated in his announcement in India that "It was an honour to have Indian Prime Minister Narendra Modi and the Chief Minister of Maharashtra, Devendra Fadnavis, alongside us as we signed a Framework Agreement for the project. The hyperloop route would link central Pune, Navi Mumbai International Airport, and Mumbai in 25-minutes and connect 26 million people."
He also stated that this project could help 150 million passenger trips annually and saving over 90 million hours of travel time.
Video: Sir Richard Branson announces Hyperloop One Project in India
Below is a video of the announcement from Sir Richard Branson about this exciting news to transportation.

Richard Brahe anson also hopes that the construction of Hyperloop One in India can transform it to be a pioneer at global transportation.
The cost of this project is estimated by the Virgin Hyperloop One at around $55 billion (Dh202 billion; INR 350,000 crores) benefits in the socio-economic, accident reduction, operational saving costs and time savings.
Why I believe @Virgin @HyperloopOne could have the same impact upon India in the 21st century as trains did in the 20th century https://t.co/IkYbfIs2yi pic.twitter.com/WEuS6VWbzU

— Richard Branson (@richardbranson) February 18, 2018
This project is also expected to create tons of jobs, which could attract businesses and investments in the region worldwide. The Hyperloop One is also electric powered and an efficient system that would help the planet by reducing greenhouse gas emissions up to 86K tons in the span of 30 years.
Richard Branson stated in an interview that "Virgin Hyperloop One is the only company in the world that has built a fully operational Hyperloop system. I have been fortunate to visit the wonderful team and see them in action at our fully operational test site in Nevada, working hard to make hyperloop a reality. I'm excited to see what's next."
The billionaire tycoon also stated to the media that being stuck in a traffic in India was a bad experience for him. He also said that if he was an Indian that he could spent most of his life being stuck in traffic.
Ever been stuck in a traffic jam in India? The country is hoping to make it a thing of the past https://t.co/HOlLmYFquD @RockyMtnInst pic.twitter.com/cyWxIYXZwc

— Richard Branson (@richardbranson) October 26, 2017
"I have sat in Indian traffic every time I have come here, it's not a pleasant experience, and if I were an Indian a lot of my life would have been spent sitting in traffic jams. This is a miserable way of spending one's life." Mr. Branson said in a conference.