Videos: Shah Rukh Khan Visits Dubai #BeMyGuest
The Dubai Tourism government has invited Indian film actor, Shah Rukh Khan, in its 2018 campaign where he invites viewers to 'be his guest' in Dubai.
The actor has been to Dubai before for another campaign with Dubai Tourism and it seems that the previous stint has paid off since he's representing Dubai for another series of short video clips for another guaranteed successful campaign.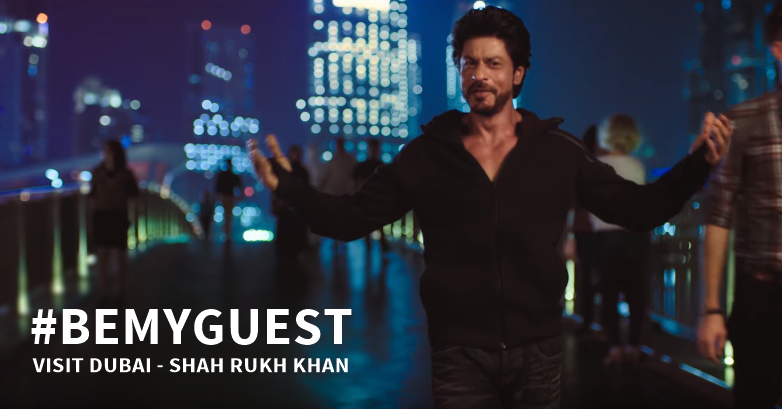 Bollywood Film Actor Shah Rukh Khan Invites Everyone to Experience Dubai as his Guest
This Visit Dubai campaign showcases various stories of people coming to Dubai for various events (sports, family reunion, romance, adventure, etc.) and here he is part of the stories of each and every guest as they make moments in the emirate.
Check out these video clips that's since been published below.
#BeMyGuest: Come, feel at home in my Dubai
A child's first time to be away from his parents and visits Dubai for a football match. He and Shah Rukh Khan enjoy Dubai's theme parks.
#BeMyGuest: Come, fall in love in my Dubai.
This video shows Shah Rukh Khan helping a man propose to his fiance in Dubai.
#BeMyGuest: Come, live your dreams in my Dubai.
This video shows Shah Rukh Khan helping a few lads in a fun-filled adventure activities in the outskirts of Dubai, and features stunning views and sports that one can enjoy in the emirate.
#BeMyGuest: Come, live priceless moments in my Dubai.
A priceless family reunion in Dubai and Shah Rukh Khan reminds the younger generation that it's their parent's anniversary.
#BeMyGuest: Visit Dubai and Shah Rukh Khan Behind the Scenes
An overall behind the scenes look  at the making of this video series.
There's more than 2 million Indian residents living in the UAE and comprises at least a quarter of the total UAE population. It's no surprise that this film actor is a big crowd drawer as the campaigns attract a majority of the population, not only for fellow Indian nationalities but even for admirers and fans.
Shah Rukh Khan is proud to be part of this campaign and has been considered a Dubai advocate at heart.