UAE Announces Major Changes in Jobs & Visa Policies
UAE cabinet makes amendments on visa rules affecting UAE workers, visitors, families, residents, and overstaying expats.
The United Arab Emirates has announced new and major changes visa policies and job rules that will help bring in more tourists and attract more businesses and opportunities in the country. Here we list the following points to help you understand better.
Also Read: What You Need to Know before Accepting a Job in the UAE
His Highness Sheikh Mohammed bin Rashid Al Maktoum, Vice President and Prime Minister of the UAE and Ruler of Dubai, chaired the UAE cabinet announcing the changes on visa and job rules which would create an impact to the lives of UAE residents and expats.
In a cabinet meeting today we approved reforms including replacing the bank guarantee system for private sector employees, with a low-cost insurance scheme. This will release AED 14 billion back to the private sector companies and will further lower the cost of doing business . pic.twitter.com/4BYNzldJ0S

— HH Sheikh Mohammed (@HHShkMohd) June 13, 2018
New UAE Visa Rules and Job Policies
So in case you are wondering what these major changes are, here's a breakdown to simplify these important points. Please be guided on amendments for UAE workers, visitors, families, residents, and overstaying expats.
1. UAE employers are exempted from paying AED 3000 bank deposit per worker when hiring employees. This results to an amount of AED 14 Billion to be given back to UAE companies which they can use for their own investments/plans.
2. AED 60 Insurance Per Employee. UAE employers only need to pay AED 60 per worker for them to get a low-cost insurance scheme with a coverage of AED 20,000 per worker.
3. 2-Year Visa Extension for Students.  Students can get a visa extension after they graduate university.
4. 48-Hour FREE Transit Visa. UAE Transit passengers get a free entry for the first 48 hours. This transit visa can be extended for a fee of AED 50 up to 96 hours.
5. 6-months Visa for Job-Seekers. Those who want to come to the UAE for employment can get a 6 months temporary visa so they have more time to find work. This also enables the UAE to enhance its position as a land of opportunity.
6. No Ban for Illegal Residents. Those who have entered the United Arab Emirates illegally can voluntarily leave without incurring a ban. They will get a "no-entry" stamp for 2 years only, provided that they present a valid return ticket.
7. No Need to Exit to Change Visa Status. Those who need to adjust or renew their UAE visas need not leave and re-enter the country to do so, for a fee.
8. "People of Determination" to Get Equal Opportunities for Employment. Those with disabilities will get equal employment opportunities in various sectors in line with the Government's social development programs for all segments of the society.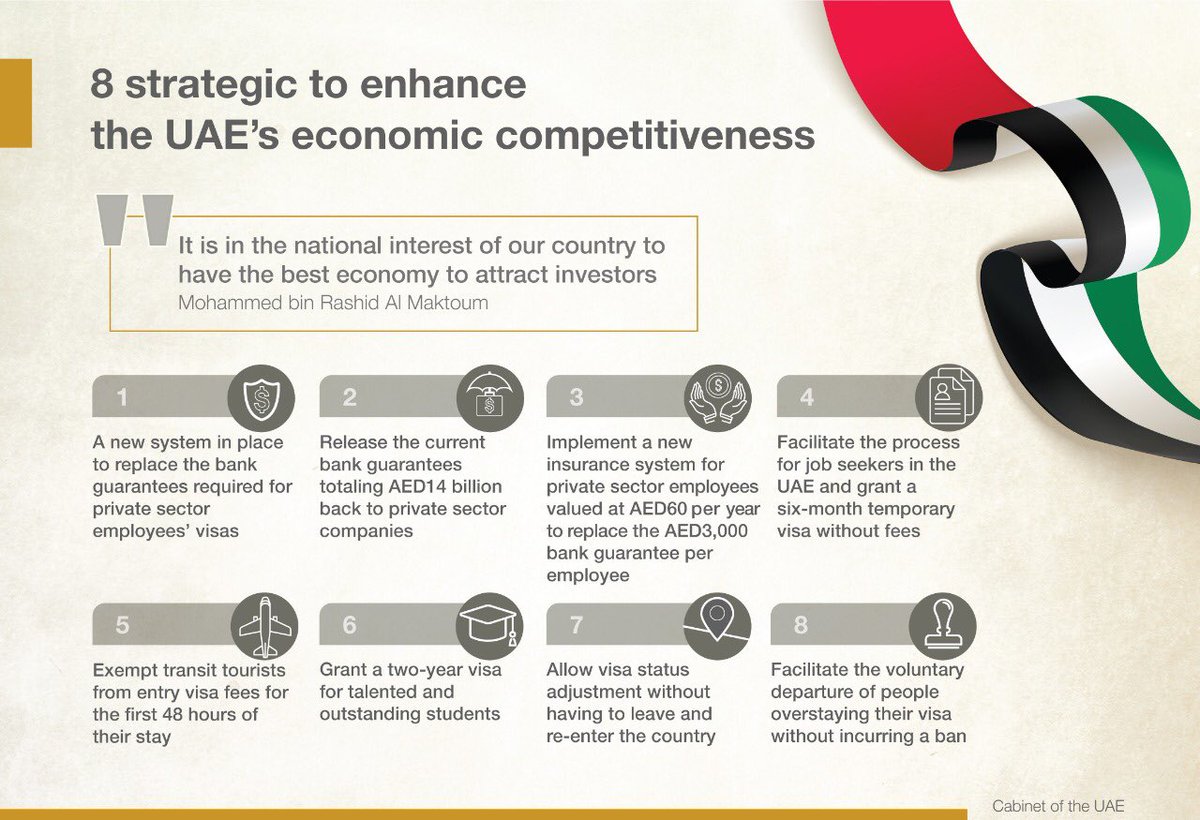 The UAE, while still a young country, has many changes in its work rules, but it's great to know that these adjustments have been made to attract more people to visit Dubai and its neighbouring emirates. These changes will really help residents ease financial burden and invite tourists to come and see what Dubai has to offer.
Video: UAE Visa Rules and Policy Changes