UAE Type of Companies: Private, Government and Freezone
Understanding the difference between a UAE-registered company, government-owned and a freezone company.
If you have plans to work in the UAE, it is important that you are aware of the labour system. This article will discuss the various types of companies and how they differentiate from one another. Generally, there are three types of companies in the UAE: Private Registered, Government-Owned and Freezone.
UAE is one of the countries where a huge number of overseas foreign employees are working. There are over 2 million NRIs alone, what more are other nationalities who treat this as their 2nd home. As countless jobs in different industries are being offered, it is important that you are aware of the rules and regulations following each company type. This will be beneficial for you as an expat worker so that you will know where to go to seek for help should you encounter any labour issues.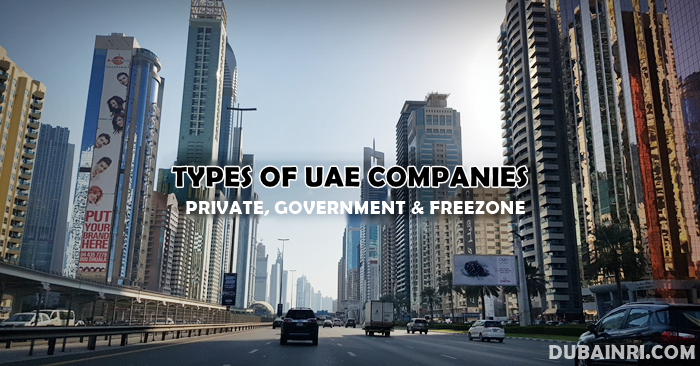 UAE Private Company vs Government Company vs Freezone Company
You probably know a person or two who works in UAE and has progressed in life by now! If you are also considering working in this wonderful country, it is a must that you should first understand the type of companies in the UAE for you to have an idea where you can possibly work at and where your skills would fit. Here we explain each of these types:
What is UAE-Registered Company / Private Company?
A UAE-Registered / Private Company is basically owned by a private individual. The business is mandatory registered in the country and conforms to the rules of the labor laws in UAE. However, the company is not purely theirs as the owner will only get the major shares.
Disputes and Labour Concerns: For Labour concerns under a private company, contact the Ministry of Human Resources & Emiratisation or MoHRE (formerly known as Ministry of Labour) for any disputes.
What is a Government-Owned Company?
Meanwhile, a Government-Owned Company is literally owned directly by the government of the country. Some of the examples are airlines, healthcare companies, and even government offices. When a person is employed in a government-owned company, the labour laws to be followed is the UAE's rules and regulations.
Disputes and Labour Concerns: For Labour concerns under a government company, you will still need to contact MoHRE as companies follow the UAE law.
What is a Freezone Company?
Lastly, a Freezone Company is one that is not governed by the UAE Law. Despite being located in the same country, it is recognized as a separate entity which has its own rules and regulations. This kind of company is usually owned by a foreign worker or an expat, who wants to create a business in the UAE, but doesn't want to have a local business partner who will own 51% of the shares.
Disputes and Labour Concerns: In a free-zone area, the laws are different; therefore the labour laws are not the same as well. You would need contact the main headquarters of the freezone. For example, if you work in Dubai Media City Freezone, you need to contact the the DMC HQ. If you work in Dubai Silicon Oasis, you need contact the Silicon Oasis HQ, and so on for other free zones.
Why do expats prefer FZE (Free Zone Enterprises)?
Most expats prefer an FZE or Free Zone Enterprise because of the following reasons:
They can own the business 100%
Transfer of funds is free
It is easy to establish a business
Quick process
25 years lease options
Cheap workforce and easy recruitment procedures
Are there any disadvantages in building a FZE?
Yes, there are quite a lot, to be honest. Some of the disadvantages are:
The company is not allowed to trade with a market located in UAE. A Customs duty amounting to 5% will be imposed on the business if the FZE sells in the local market.
An FZE can engage in trade only through the locally appointed distributors.
The employees working for an FZE should only work within the freezone.
UAE is a bit strict about the company types, but it is easier to identify the differences of each other and all three kinds of companies get their own benefits different from each other. All in all, if you will be working in a freezone, you should first do a research since the laws are different from that of UAE.
Based on personal experience as an NRI expat living in the UAE, the free zone companies are much better in terms of employment, because you can normally resign and transfer and you would not get a labour ban in certain freezones (please verify it with the your freezone HQ).
We hope you find the details here to be helpful and give you a better understanding of the types and differences of each company. It's good to know for your knowledge so you also know how to act accordingly should you have any work concerns.
Note: Please regard this article as a guide and tip only. Should you have any labour disputes or questions, it is best to contact the Ministry of Human Resources & Emiratisation (Labour department) or the Free Zone Headquarters, depending on the company type. Please do not use the info here for legal basis.