How to Apply for a Schengen Visa in Dubai
Schengen tourist visa application process in Dubai for European countries under the Schengen agreement.
UAE residents who want to travel to Schengen states may need to apply for a tourist visa in advance. Depending on your passport, you may need to get go to the application center because you will need to get a visa stamp prior to your travel. In this article, we share the details on how to apply for a visa for tourism purposes.
Also Read: How to Apply for an Australia Tourist Visa in Dubai
But first, what is a Schengen visa? The Schengen Agreement removes the internal border controls between Schengen states and covers free movement between European countries. The Schengen member countries are as follows: Austria, Belgium, Czech Republic, Denmark, Estonia, Finland, France, Germany, Greece, Hungary, Iceland, Italy, Latvia, Liechtenstein, Lituania, Luxembourg, Malta, Netherlands, Norway, Poland, Portugal, Slovakia, Slovenia, Spain, Sweden, and Switzerland. Note that the United Kingdom and Ireland are not Schengen countries.
There is no need to apply for separate visas for each country because the Agreement covers a uniform visa which allows free movement as long as you are within the Schengen territory.In order to travel to any of the Schengen Zone countries, there are certain requirements to be accomplished prior to obtaining a Schengen visa.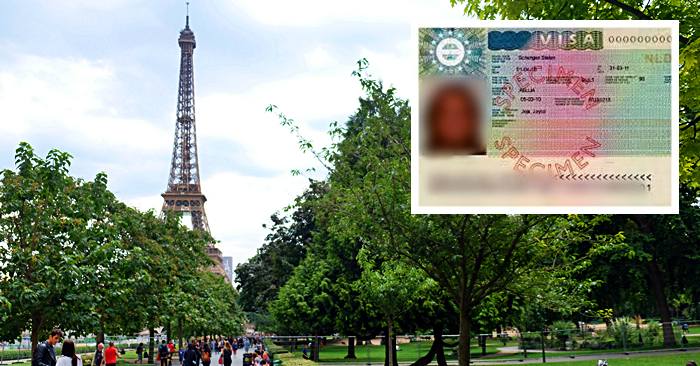 Procedures in Getting a Schengen Visa in the UAE
1. Choose the country. If travelling to more than one Schengen country, apply at the Office for the country where you will be spending the most time in. If your are staying for an equal time in every country, apply for a visa at the Embassy of the country you are visiting first. After having been issued a multiple entry visa, you will be able to travel to all of the Schengen Zone countries for the time stated that is allowed in the visa.
2. Visa application. Book an appointment online based on the Schengen country you are visiting. The application form is downloadable from the country's government website. For example, if you plan to visit France, schedule an appointment via the VFS Global France website. When arranging for an appointment, set a minimum of 15 days processing time before your departure date. Best to book an appointment early, around two to three months before the scheduled trip.
Important Note: You need to go to the office/agency in charge that handles the specific Schengen visa. For example, if you want to get a visa for Spain, you need to visit the BLS Intl office as they handle Spain visa applications in Dubai. If the main country of travel is Italy, then visit Cox & Kings agency as they handle it. So be guided on what's the assigned office handling it.
3. Prepare and gather the documents needed. Once a date of appointment is booked, you need to prepare the following necessary documents:
Application form – downloadable from the country's website (completely filled-out with blank ink);
Original and valid passport – must be valid for three months after expiration of visa from the inteded Schengen country applied for; has two remaining consecutive blank pages; and, the date of issue must be within the previous ten (10) years;
Passport photo –  two (2) copies with white background showing a full facial frontal view (size of face must be between 32mm and 36 mm) and must be taken within the last six months;
UAE Residence visa – valid for at least 90 days or three months after the intended date of departure from the Schengen country (with photocopies for submission);
Copy of comprehensive medical insurance for travel – policy should cover all Schengen countries and must cover the entire period of stay (with a minimum coverage of €30,000 for urgent medical expenses);
Copy of itinerary – if prepared by the travel agency;
NOC from employer – Employment Certificate indicating current position, monthly salary, and purpose of travel;
Documents about your trip ( flight schedule and confirmed hotel booking and/or car rentals); and
Documentary proof showing you have sufficient financial means of support (bank statements and payslip).
4. Personal appearance at the VFS Global Office. On the date of the appointment, make a personal appearance at the VFS Global Office country of destination. After all documents are submitted and assessed by the VFS Global staff, your fingerprints and photo will be taken (picture to be used in the visa stamp). Afterwards, a claim receipt will be given and this will be used for  claiming your passport (once application is approved).
5. Await approval. An SMS message will be sent regarding the status of your application from the time it was submitted to the time it is approved and ready for pick-up. Once an approval is stamped, you may claim your passport at the VFS. Process can take as short as three (3) days up to 15 working days.
TIP: A piece of advice, it is imperative to remain true with your travel plans after the approved visa stamp has been secured, to ensure the integrity of your visa application. This will also help facilitate approval of future visa application to other  Schengen countries.
Fees
You may check the country's website. The Visa Fees vary by country you are applying to. You may also contact the embassy directly for any updates on your visa application.
VFS Global Site Service Fee – AED 100
Visa Processing – AED 300-500
Total – 337 AED
Note: The fees above is only for the actual processing of the visa from the application centre. You still need to prepare money when you apply for insurance, book your hotel and plane tickets, etc.
Other fees (Optional)
Courier Service (delivered to workplace) – AED 30
Premium Lounge Service – AED 250
Note: A premium lounge has a better service area while waiting your turn when submitting documents and you will also be given priority when the application is submitted but does not necessarily guarantee the application's approval.
Contact Information
Address: VFS Global France is located at the 2nd Floor, WAFI Mall Level 2, Falcon Phase 2 , Dubai
Dubai website: http://www.vfsglobal.com
Phone Number: +971 4 205 5666
The VFS Global is the official center that processes visa applications to handle requests. There is no need to go directly to the Consulate or Embassy.